Subscribe to Power Purls Podcast
In this weekly podcast, Kara Gott Warner empowers newbie knitpreneurs to start and grow a thriving passion-crafted business through engaging conversations with knitwear designers, industry rock stars and everyday knitters with compelling back stories. Subscribe and download the latest episodes on iTunes, Stitcher and TuneIn.
Are YOU Ready to POWER PURL?
Power Purls is on Patreon!
Robyn Chachula is the author of Vintage Modern Crochet, Blueprint Crochet Sweaters, Unexpected Afghans, and Crochet Stitches Visual Encyclopedia. Her work has also been featured in many popular crochet publications such as Crochet! and Vogue Crochet.  Robyn is also a contributing crochet designer in Annie's Autumn Bliss, a stunning collection of 40+ knitting and crochet patterns and is one of the crochet experts on the Annie's PBS television show Knit and Crochet Now!. She is also a crochet instructor for Annie's Online Classes.
One thing I try to impart to all my students is that the only difference between professional designers and them is that we have perfected how to make major mistakes look intentional.  So instead of getting frustrated and down that your doily now fits your bed, giggle and rejoice at your new bedspread!

–Robyn Chachula
Power Purls Swag is here!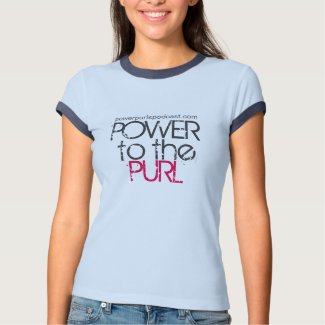 POWER to the PURL T-Shirt