Subscribe to Power Purls Podcast
In this weekly podcast, Kara Gott Warner empowers newbie knitpreneurs to start and grow a thriving passion-crafted business through engaging conversations with knitwear designers, industry rock stars and everyday knitters with compelling back stories. Subscribe and download the latest episodes on iTunes, Stitcher and TuneIn.
Are YOU Ready to POWER PURL?
Power Purls is on Patreon!
Welcome to Power Purls Unplugged, with me, Kara Gott Warner. Your comments have shown me that the raw, unpolished aspect of a live podcast certainly has appealed to many of you. I love getting your feedback. It's been necessary, in order to balance the different time zones and to find the best time frame for this show. Join me today, as I talk to the Power Purls Facebook Group, live, while recording my podcast. We will discuss what being creative with your knitting means to you. Take your knitting to the next level. Let's keep the conversation going!
Catch me live every Friday, on Facebook.com/PowerPurlsPodcast. To watch past broadcasts, you can find them in the video library on the Power Purls Facebook page and on the Power Purls YouTube channel!
Power Purls Swag is here!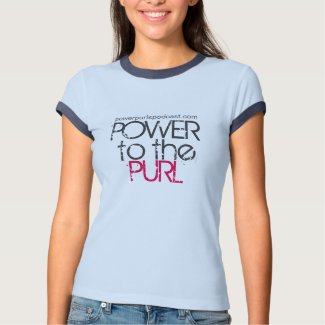 POWER to the PURL T-Shirt