Subscribe to Power Purls Podcast
In this weekly podcast, Kara Gott Warner empowers newbie knitpreneurs to start and grow a thriving passion-crafted business through engaging conversations with knitwear designers, industry rock stars and everyday knitters with compelling back stories. Subscribe and download the latest episodes on iTunes, Stitcher and TuneIn.
Are YOU Ready to POWER PURL?
Power Purls is on Patreon!
If you're a designer and you'd love to go to The National Needle Arts Trade Show, but you aren't sure what to expect, then you'll love today's show with Meghan Jones, who shares tips and some practical advice and tips for newbie designers.
Meghan, who lives in Spokane, Washington, with her husband, three kids, two dogs, one cat and six chickens, works full time as a knitwear designer and also nurtures obsessions with sharks, gardening, cooking, and chickens- though not necessarily in that order. She is a prolific designer, with a BFA in fiber and textiles. Meghan was featured on the cover of the July 2011 issue of Creative Knitting, and still designs for the magazine today, and was recently named the Creative Knitting Newsletter Editor. 
"I believe you can manifest anything with hard work. The more you work, the better you get and the more opportunities you will create for yourself. Be tenacious. Do what you love and the path will open before you."

– Meghan Jones
Power Purls Swag is here!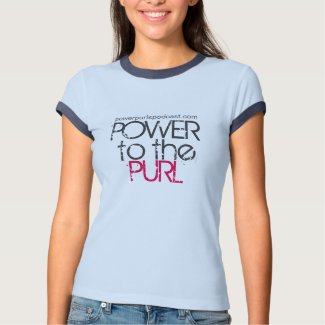 POWER to the PURL T-Shirt