Subscribe to Power Purls Podcast
In this weekly podcast, Kara Gott Warner empowers newbie knitpreneurs to start and grow a thriving passion-crafted business through engaging conversations with knitwear designers, industry rock stars and everyday knitters with compelling back stories. Subscribe and download the latest episodes on iTunes, Stitcher and TuneIn.
Are YOU Ready to POWER PURL?
Power Purls is on Patreon!
In this episode, Kara chit chats with Tabetha Hedrick, Design Director of Sweet Georgia Yarns, and Contributing Editor of Creative Knitting Magazine. Tabetha is also Kara's sidekick in crime co-host of the Ask Kara & Tabetha Anything series. In this episode, we share details about the upcoming Stitchucation Shawls 5-Day Challenge and Workshop starting April 10, 2017, sponsored by Sweet Georgia Yarns.
In the extended, patron only version, you're in for a treat because Tabetha closes the convo with the 5 top things to master when submitting designs to yarn companies and craft publishers. This is valuable advice that you can use in any of your professional endeavors.
Check out the benefits of membership here. 
"I've spent too long trying to make room for what I want, when, instead, I've needed to simply learn how to fit it into the ebb and flow of life as I live it now."

– Tabetha Hedrick
Power Purls Swag is here!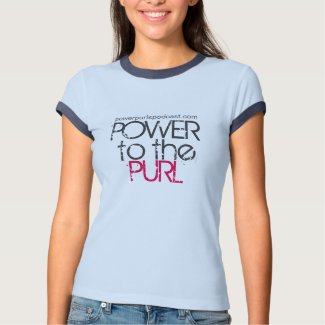 POWER to the PURL T-Shirt