Subscribe to Power Purls Podcast
In this weekly podcast, Kara Gott Warner empowers newbie knitpreneurs to start and grow a thriving passion-crafted business through engaging conversations with knitwear designers, industry rock stars and everyday knitters with compelling back stories. Subscribe and download the latest episodes on iTunes, Stitcher and TuneIn.
Are YOU Ready to POWER PURL?
Power Purls is on Patreon!
Vickie Howell is most well-known as the Host and Creative Consultant of DIY Network's Knitty Gritty, her best selling knitting, crochet, and craft books, and her accessible, inclusive approach to nurturing the creative community via print, video and social media. Today, she shares details about a Kickstarter for Knit Show, which will be the first community-funded and internationally accessible episodic knitting & crochet series! 
"Breathe in. Craft out."

– Vickie Howell 
This is your chance to get involved! Without 100 percent funding, this show cannot happen. Click here to help me support the show and let's make this happen! Hurry, because the campaign ends April 19th! 
Power Purls Swag is here!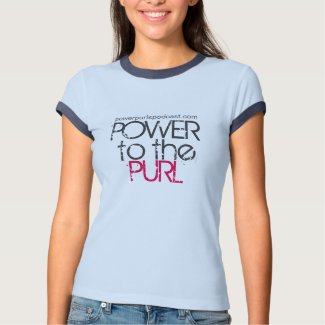 POWER to the PURL T-Shirt