Subscribe to Power Purls Podcast
In this weekly podcast, Kara Gott Warner empowers newbie knitpreneurs to start and grow a thriving passion-crafted business through engaging conversations with knitwear designers, industry rock stars and everyday knitters with compelling back stories. Subscribe and download the latest episodes on iTunes, Stitcher and TuneIn.
Are YOU Ready to POWER PURL?
Power Purls is on Patreon!
Amy Gunderson, who lives in Charlotte, North Carolina, is the creative director for Universal Yarn. When she's not at her day job, she spends her time doing freelance design work for a number of publications, as well as doing tech editing for indie, knit and crochet designers. She's also a freelance graphic designer, focusing mostly on crochet charts. She is the author of two books and has been published in most major knit and crochet magazines, including Creative Knitting and Crochet. She's also done some teaching and article writing for magazines. On today's show, Kara asks Amy for her perspective on the yarn industry.

"This is what I like about getting older – getting to know myself better and trying to exploit it! I used to get so frustrated – I'd keep trying, and trying, and trying at some "thing", and hate on myself for not getting it right or doing it as well as I thought I should. When I finally learned to give myself a break is when I felt like life truly began."

-Amy Gunderson
Power Purls Swag is here!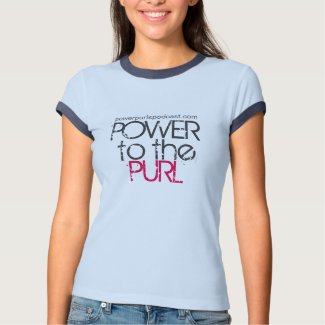 POWER to the PURL T-Shirt