Subscribe to Power Purls Podcast
In this weekly podcast, Kara Gott Warner empowers newbie knitpreneurs to start and grow a thriving passion-crafted business through engaging conversations with knitwear designers, industry rock stars and everyday knitters with compelling back stories. Subscribe and download the latest episodes on iTunes, Stitcher and TuneIn.
Are YOU Ready to POWER PURL?
Power Purls is on Patreon!
Beth Casey, a business owner and entrepreneur, has been supplying the globe with colorful yarns since 2003 through Lorna's Laces. This has afforded her the special advantage of witnessing a new wave of thinking in the way we look at yarn. Ten years later, she introduced Mrs. Crosby, releasing a  whole new range of vibrant possibilities. Listen and find out more about the ins and outs of what happens behind the scenes in the exciting business of running a yarn company, in this week's episode of Power Purls Podcast.
It's an honor to work in yarn. I feel that the love we put into everything we dye flows through to the person that buys the yarn. In turn, the love they put into their stitching flows into their creation. So, when someone wears or uses something made from our yarn, a little of our love is there with them.

 — Beth Casey
Power Purls Swag is here!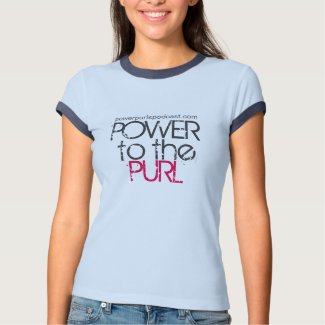 POWER to the PURL T-Shirt