Subscribe to Power Purls Podcast
In this weekly podcast, Kara Gott Warner empowers newbie knitpreneurs to start and grow a thriving passion-crafted business through engaging conversations with knitwear designers, industry rock stars and everyday knitters with compelling back stories. Subscribe and download the latest episodes on iTunes, Stitcher and TuneIn.
Are YOU Ready to POWER PURL?
Power Purls is on Patreon!
Have you ever thought about creating a physical product? The task seems a bit overwhelming to most of us. Today's guest took the overwhelming tasks of product creation to a whole new level. Not only did she hone in on her target customer, but she ran a successful Kickstarter campaign to validate her idea! Simply brilliant! 
Today, we are talking with Mariah Clark. She's been designing bags for more than 6 years and prior to that, she has spent more than 25 years working with yarn. She has a degree in Apparel Design from Virginia Tech and she even spent time in Paris, studying couture sewing. She is the owner of Stitch Amour, a brick and mortar yarn shop in Waynesboro, VA. Her new venture is Laurie Laine knitting bags. She's here today to talk about the design process, the Kickstarter campaign and the popular Duo bag.
"I approach business the same way I approach a knitting pattern. I see the final goal and break it down into individual steps. And then systematically tackle each one."

– Mariah Clark
Power Purls Swag is here!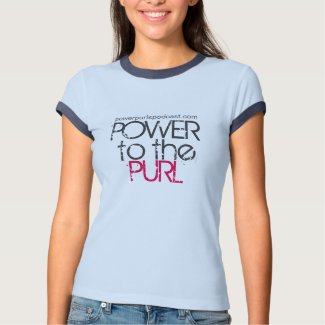 POWER to the PURL T-Shirt